In sum:
Naeco Studio aims to intersect art therapy and community care.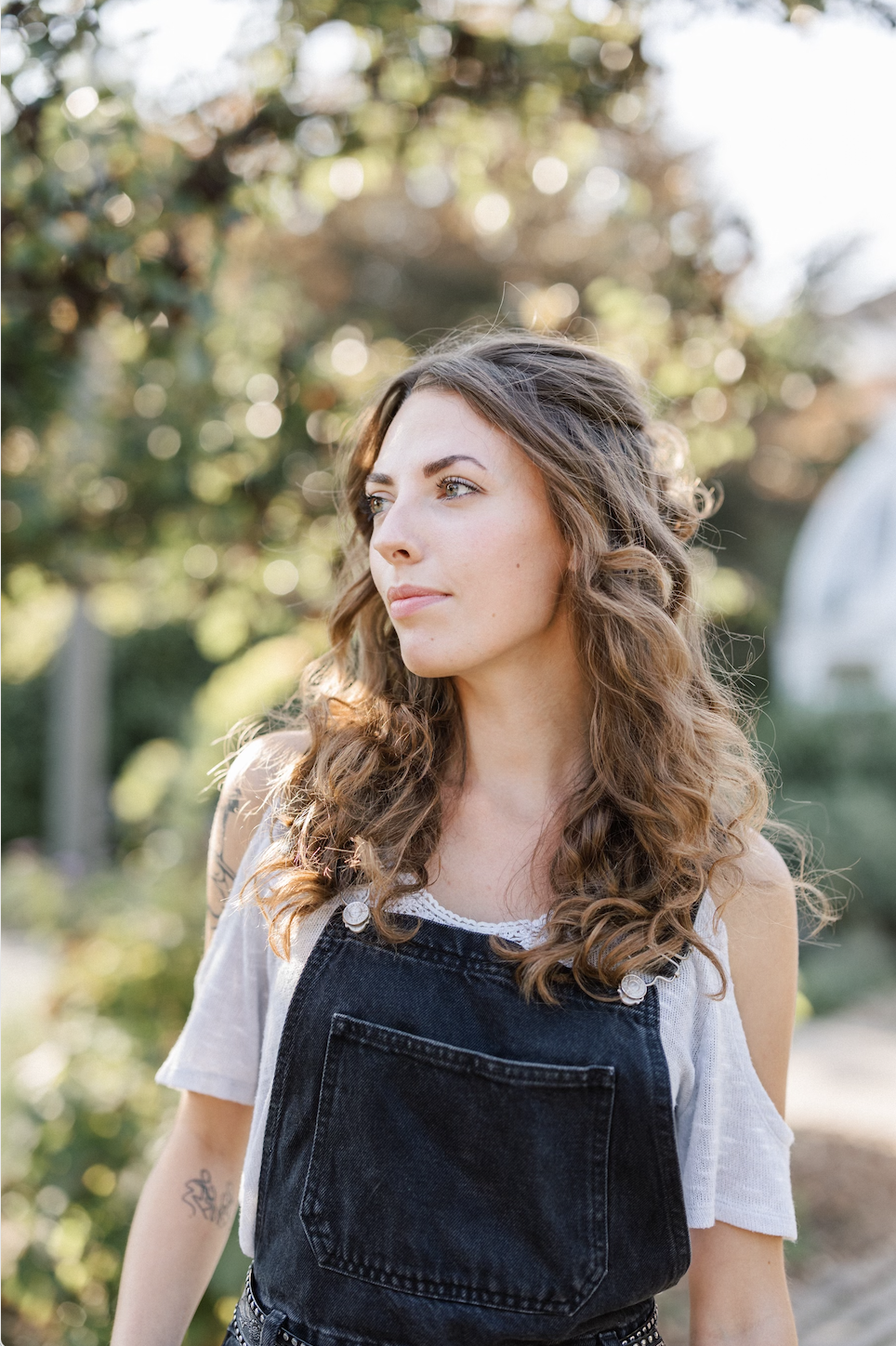 I founded Naeco Studio in 2018 in an effort to amalgamate my artistic practice with my passion for community.
When people ask me what I do, I have a difficult time providing a concise 'elevator pitch'. I've always been an artist. That feels like the right place to start. Growing up in rural Ontario makes a kid creative. Anything from sticker collecting, to collaging, drawing, photographing, and creative writing- it has been a way of regulating and expressing myself since I was small. When adults asked me what I wanted to be when I grew up, I was always torn between making art and doing something to help people. I didn't yet realize I would find a way to do both.
I graduated from the University of Guelph in 2022 with a Bachelor of Arts (Honours) double-majoring in Studio Art and Philosophy. Philosophy made me all the more passionate about ethics, the complexities of marginalizations, and fuels the fire in me to make everything I do for the well-being of oppressed and marginalized folks. Being a practicing artist, for me, involves the compulsion to express rather than the goal being sales of art works. Most of my will for creativity comes out in wanting art-making to be accessible; enabling folks to access artistic methodology in a way that doesn't require academic or elitist notions of masterpieces, but rather, utilizing their creativity as a means of expression and healing. I'm an interdisciplinary conceptual artist (portfolio here). I work in many mediums, often starting with an idea before I know how it will come to fruition. I carry this flexibility into my facilitation of art and community spaces. 
Naeco Studio is run by a queer, neuro-divergent, mentally ill, physically-disabled, chronically-ill individual. So when I tell you that I prioritize and make space for marginalized needs, I mean it with my whole heart. Putting this in writing is both a commitment towards expanding my learning and a promise to move at the pace of trust with clients. 
I am currently a student at the Toronto Art Therapy Institute, working towards my certification as a Registered Art Therapist (https://www.canadianarttherapy.org) In the meantime, I am running workshops that utilize art as a vehicle for healing, and I'm conducting arts-based projects focused on community care. That is what Naeco Studio is about. And since I believe in the remedial capabilities of where art and mental health intersect, I am still a practicing artist. I walk-the-talk alongside the people I support by continuously engaging in art-making myself. Lately this has involved a lot of photo shoots and publishing poetry.
Throughout my life, countless therapeutic and mental-health services have let me down. I am dedicating the rest of my life to doing things differently. Often, I found the content of pre-existing services lacked intersectional considerations. You cannot remedy x without acknowledging y, and most of all, the financial and social circumstances of individuals weighs on a person's wellbeing more than most clinical spaces have the capacity to address. Further- the systems themselves have deep histories in being inaccessible and oppressive. I know I am not alone in this experience. 
Realms such as art therapy, radical ethics, harm-reduction, and so forth, have drawn me in by virtue of their novel accessibility and willingness to grow. They are malleable enough to adjust to circumstances and individual needs, though still based in empirical, tangible results. Acknowledging the subconscious, trauma, and even dreams are all valid tools, circumstantially. Talk-therapy isn't the be-all, end-all of therapeutic intervention. Creativity is a deep element of human nature, one which is pre-verbal, and often underestimated in its primal influence. 
The word "Naeco" is ocean, backwards. Coming up with a name for a business, before you know exactly which direction you're sailing towards, is challenging to say the least. There is something about the ocean as a metaphor for creativity that feels intuitive. To flow and to take shape, for instance; to float and also crash, to form and resolve. The unpredictable curls of the water lapping into themselves says something about the healing process as well as the creative process. Turning inwards and pushing forwards. The ocean is a force of nature, as is our innate urge to create.
Naeco Studio aims to intersect art therapy and community care. As I work towards my art therapist certification, I balance the teachings with my own involvements with boots-on-the-ground activism and love that doesn't happen in strictly clinical settings. I'm dreaming up action:
What would it look like if sliding-scale prices allowed disenfranchised people to access care and creativity? What if client-centered approaches were the norm in all interactions? What if people who use substances need therapy and community relations, too? Is therapy a collaboration? How can I enable children to be artistic unabashedly? How can I do that with adults? What does art have the capacity to achieve in public spaces? How do photoshoots make people feel seen, beautiful, and centered? What bonds a community? How can creativity heal hurt after a rupture? Where are its limits? How can creative expression embolden empathy? What are my weak spots as a facilitator that I need to alleviate, what resources do I have to do so? How do I impact the land, how can I give back to it? How do I better maintain a culturally humble approach with the people I work with? How can I churn my privileges into giving? How much more curiosity do we owe one another's perspectives? When is it my place in the community to name harm, and how do I assist in the responsibility of collective remedy? How can I honour my neighbours doing the work with me? How do I hold space for hard feelings in the room, how can I learn to respond from a place of unasserting compassion? How do I give at a high capacity and still fill my own cup? What is the dance between personableness and professionalism? How do I move at the pace of trust?
You can see these considerations in-the-works through the community care page. It is a journey. Thanks for joining me.
---
For an in-depth look at what Naeco Studio has done over the years, below is a 

non-exhaustiv

e CV: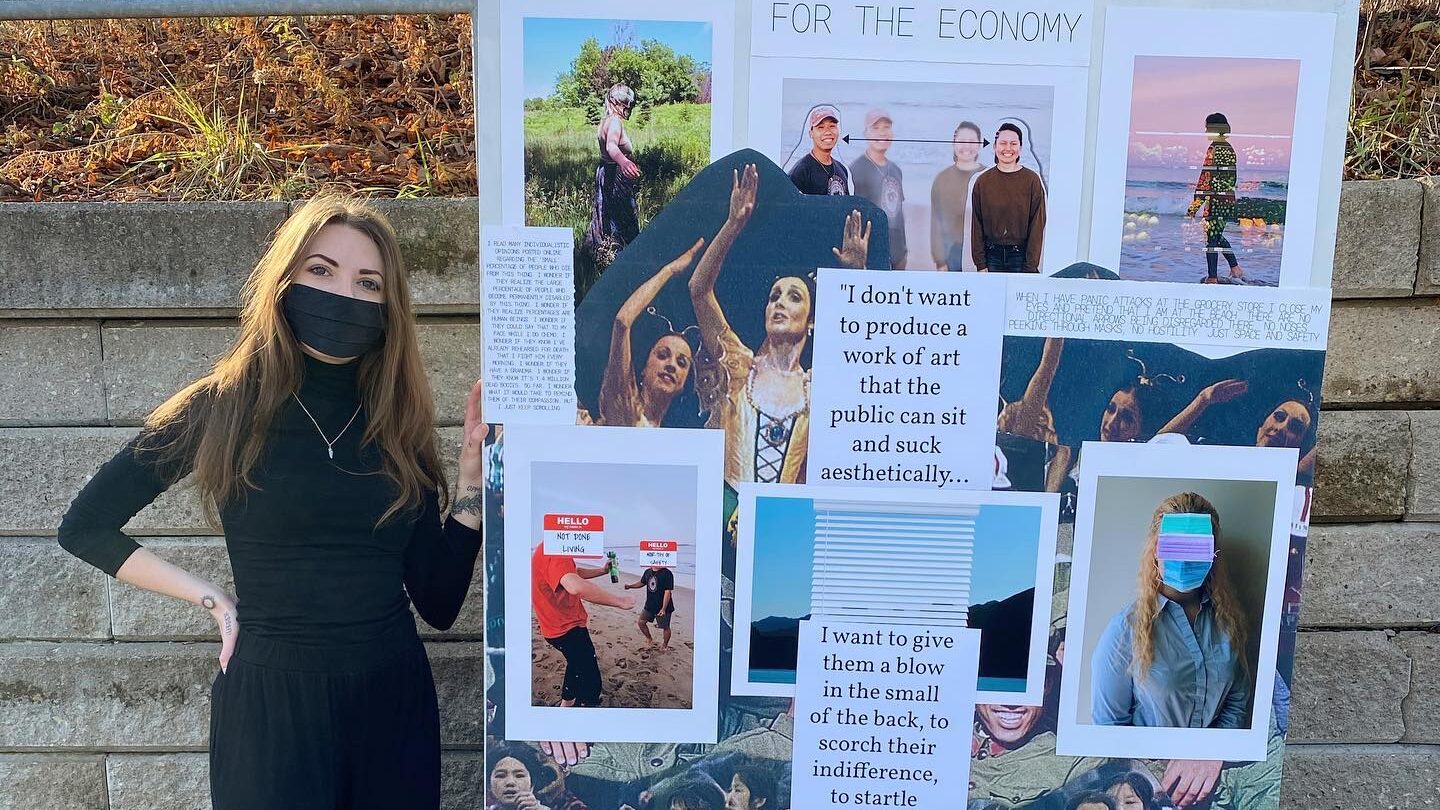 CV
Naeco Studio // Jessica Wilson
Education
• Bachelor of Arts Honours double-major
From the University of Guelph, double-majoring in Studio Art and Philosophy, with honours (2022) 
• Currently enrolled at the Toronto Art Therapy Institute 
Student art therapist, completing practicum hours, coursework, and thesis
Galleries & Art Displays
•Juried Art Show (JAS), UoG, 2019
https://www.juriedartshow.ca
•Juried Art Show (JAS) UoG, 2020
https://www.juriedartshow.ca
•Juried Art Show (JAS) UoG, 2021
https://www.juriedartshow.ca
•Juried Art Show (JAS) UoG, 2022
https://www.juriedartshow.ca
•Over/Under Exposure, exhibit, 2019
Bereavement series, exhibited in conjunction with Photo IV contemporaries at UoG
•Manifold, exhibit, 2021
Paths of Least Resistance series, exhibited in conjunction with Specialized Studio contemporaries at UoG, collaboratively curated exhibition
•HOOP-LA, Necessary Arts, exhibit, 2021
Beautiful Basilica piece on display among 50 other local artists https://www.instagram.com/p/CWTJN1hpyRx/
•Alice Street Clubhouse TV, 2021-present
Video piece Yet So Far, made in collaboration with Emil White and Grant Darling, on public display after juried acceptance to the clubhouse TV https://alicestreet.club
•Art in the Bullring, 2021
Displayed original work Panus Conchatus, a digitally manipulated photographic work, for juried and public viewing
•MFA Open Studios 2022, Specialized Studio Artist
Exhibited personal studio to showcase completed and in-progress work as a part of the Specialized Studio program at the University of Guelph, open to the public
•Threshold, exhibit, 2022
Installation of a domestic space to read, paired with an original poetry anthology titled Unfurl, exhibited and curated in conjunction with Specialized Studio contemporaries at the Boarding House Gallery in Guelph https://www.instagram.com/p/Cb2vW0Vghng/ 
•Give a Sh*t, JAYUxGuelph immersive arts festival, 2022
Exhibited original poem relevant to social justice themes festival portrayed
•Numerous rotating art work at Cornerstone, 2023
Several pieces of art displayed for sale on a month-to-month basis at the Cornerstone restaurant in Guelph. 
Funded Project Leading
• Maplewoods Centre for Family Therapy and Child Psychology, Guelph (2021-2022)

In collaboration with a team of employees at Maplewoods and Outlet Collective, led four community-made mural developments from the planning process to execution. Researched art and therapy modalities, sought out funding, hired on undergraduate and community members to paint, guided workshops for muralists, provided documentation and advertising 
Publications & Mentions
•WATsnew, Homer Watson House & Gallery, Fall 2019 magazine, volume 5, issue 4, pg. 2
Interview regarding time spent as a youth art instructor at the gallery
https://www.homerwatson.on.ca/about/magazine/
•Guelph Arts Council (GAC) article, 2022
"Bridging Worlds and Nurturing Connections: The Mural Project at the Maplewoods Centre for Family Therapy and Child Psychology" write-up on recipient(s) of the Youth Opportunities Award and corresponding mural project
https://guelpharts.ca/general/bridging-worlds-and-nurturing-connections-the-mural-project-at-the-maplewoods-centre-for-family-therapy-and-child-psychology/
•Guelph Mercury Tribune article, 2022 
"Guelph Arts Council award goes to U of G mural project" write-up on Maplewoods mural project 
https://www.guelphmercury.com/community-story/10562234-guelph-arts-council-award-goes-to-u-of-g-mural-project/
•Kaleidoscope Magazine, CASU, 2019, Issue 18, page 16 & page 22 
Two original poems published: Isles and Un-Title-Able
https://www.kaleidoscopemag.com/copy-of-issue-17
•Otherwise Studios, "People Doing Cool Things: Support Local, Shop Small" 
Shoutout to local small businesses with arts-based offerings
https://otherwisestudios.com/supportsmall/
•Vocamus Writers Community
Writer bio as a member of Vocamus Writers Community
https://vocamus.net/community/authors/jessica-wilson
•College of Arts "Grypholio", 2021
Write-up on series Layers of Cannon made in collaboration with Katherine Topping
https://www.instagram.com/p/CYjjSMJFyEw/
•Flora: Undergraduate Philosophy Journal Vol. 1 No. 1, published 2022
Published essay titled Beyond Deference: Standpoint Epistemology as Intersectional Intervention in a collaborative, annual, peer-reviewed philosophy journal hosted through the McLaughlin Library OJS platform
https://journal.lib.uoguelph.ca/index.php/flora#:~:text=Flora%3A%20Undergraduate%20Philosophy%20Journal%2C%20is,discourse%20at%20the%20undergraduate%20level.
•Unfurl, original poetry anthology, published 2022
Self-published and available through Amazon or locally in Guelph at the Bookshelf. "Poetry anthology composed throughout 2020-2022. Oozing with vulgarity and vulnerability through abstractions of personal life. Unfurl is an unorthodox opening-up-of piquant expressions through emotive punches.
https://www.amazon.ca/dp/B0B7RS71M2
Practicum Placements [ Art Therapy Student @ TATI ]
•Grief and Loss Group Art Therapy at Full Circle Art Therapy, 2022

Co-facilitated an Art Therapy group for 8 weeks through Full Circle Art Therapy for individuals within Ontario experiencing bereavement. https://fullcircleatc.com/art-therapy-for-grief-loss
Markets
•Zavitz Art Store, 2020
Showcased original works for sale at student-run art store
•Guelph Market, December Nights, 2021
Featured vendor at market, sold original works
https://guelphmarket.com

•Kindred Connections, Coffee, and Poetry Night, @ Sage Wellness Queen St. West, 2022
Featured vendor at writing-based market, sold original poems, prints, and poetry books, had the pleasure of performing my poetry to attendees 

•Parking Lot Party, 2023
Featured vendor at event catered to supporting local artists and businesses. Sold poetry anthologies, zines, original art, and more 
Workshops
•Introduction to Art as Therapy: Group Session (2019)
Naeco Studio facilitated introductory workshop at Otherwise Studio to introduce elements of art therapy 
•Art Regulation at Home: Two-Week Online Program (2020)
Naeco Studio designed artistic daily prompts which participants received each day for a two-week period. This was a response to a lack of creative and mental health services available during the pandemic
• Enactus + Lang School of Business + MWMC (2020)
'Movember' Men's Mental Health Stressbuster: Sustainable Paint Night, conducted research, organized, and led virtual workshop
•Central Student Association, UoG, Mental Health Monday (2020)
Naeco Studio led virtual workshop for undergraduate students to try artistic methods of honouring their mental health through circumstances of the pandemic 
•"Write Your Heart Out" Take-Home Writing Therapy (2020)
Naeco Studio designed portable kits of writing therapy exercises for participants to complete from home
•"Activism By Artists", free workshop to Guelph community members (2020)
Naeco Studio conducted one hour of artistic exercises with the group and two hours of productive discussion relating to artists offering their skills in a time of social need. Space was dedicated to sharing ideas on how to sustain advocacy efforts
•"No Resolutions; Reflections", virtual workshop (2020)
Naeco Studio facilitated a virtual workshop of guided art and writing prompts to focus on self-compassion and reflections on the year previous
•10 Carden "Connecting Circles: Art as Therapy" (2021)
Naeco Studio led a virtual discussion of artistic therapy benefits and introduced exercises for folks to try at home. Space was prioritized for adults and seniors in the Guelph area experiencing isolation
•"Discovering Your Grief" workshop collaboration with Tash Gray (2021)
Naeco Studio collaboratively led a virtual workshop for those experiences grief that needed processing especially in a climate without proper funeral services. Art and text-based exercises were conducted to address various forms of grief
•Maplewoods Muralist Training and Collaboration Workshop (2022)
Naeco Studio, in collaboration with Alexa Collette and Maeve Hind, guided a workshop for muralists accepted on our behalf for the Maplewoods Mural Project. Workshop involved integrating various submissions into collaborative pieces, training on digital design software, and generating group expectations as a team
•Introduction to Art Therapy & Community Care Workshop / Information Session (2022)
At the Orangeville District Secondary School, presented an informational introduction to the field of art therapy, including how to  accessing art therapy in the area, a synopsis of my journey to finding art therapy, and some introductory exercises on what one might expect in a clinical setting. 
•Community Canvases: Collaborative Art-Making for Community Care (2022)
Naeco Studio, in collaboration with Outlet Collective, orchestrated a workshop as a response to a pre-existing initiative by supplementing a creative touch. The evening involved guided art warmups leading to collaborative abstract mark-making on 30+ canvases. These canvases were donated to the Grace Gardens Permanent Supportive Housing Initiative in Guelph, which provided permanent homes and living supports for 30+ folks in the community to alleviate them from the housing crisis and the over-crowded, short-term shelter support alternatives. By inviting community to make mindful, collaborative art for these spaces, it was our hope that individuals would find their new homes to feel less clinical and more warm/encouraging.
"Fine Art" Teaching Experience
•Art Instructor at the Guelph School of Art: Exploration of the Self Series, 2023

Naeco Studio instructed an art series over the course of 3 weeks at the Guelph School of Art for adults who signed up for the Exploration of the Self Series. Naeco Studio designed the workshop to re-introduce art to artists as more than a mode of mastery, but rather, a way of being and expression that is innate and cathartic. Participants were encouraged in many ways to use artistic modalities as a process for expression and going inwards, as oppose to the expectation that artistic efforts must be for skill gain or monetary outcome. The exploration was a multi-media effort, and involved group sharing and fruitful discussion regarding the process and pieces made. https://www.wyndhamartsupplies.com/pages/guelph-school-of-art
•Lead Art Programmer and Instructor at The Learning Common School, Etobicoke, 2023

Naeco Studio designed a curriculum and taught Friday art classes at the TLC school with these main themes in mind: connection, belonging, expression, conflict resolve, expansion, nature, and aesthetics. The Learning Common is a private school for students with learning exceptionalities not always supported effectively in the public funded school sphere. For instance, many youth at TLC have Dyslexia, ADHD/ADD, Autism/Asperger's spectrum, or Specific Learning Disabilities in reading and writing. The goal was to provide a space for fun and meaning-making through a creative outlet. Students age ranged from 8-13 years.https://www.thelearningcommon.org/about-us
•Private Lessons: One-on-one Art Classes

Naeco Studio has taught art to individuals in a variety of settings. Depending on the client's needs and creative goals, Naeco Studio can design and implement artistic teachings. Sliding-scale and material-inclusive options available. Please get in touch for more information.
Conferences & Panels
•UoG Campus Open House (2018)
•Youth Climate Action conference, organized by Emily DeSousa (Seaside with Emily), Mike Schreiner (Green Party), and MWMC (2019)
•START Accessible Panel, through Student Accessibility Services, UoG (2018)
•Bachelor of Creative Arts Therapies Committee (running title), student representative, School of Fine Art and Music department, UoG (2019-2022)
Certifications and Training
Non-exhaustive list, inquire directly for specifics
Certified in Standard First Aid and CPR/AED, Level C, valid through 2022-06-17
Childcare certified (2014)
WHMIS, Smart Serve, and Worker Health and Safety certified
Certified Elderly Caregiver through Warm Embrace Elder Care (WEEC)
Qualified to instruct the Tiered Exercise Program for elderly and physically disabled individuals through WEEC
Specialist High Skills Major (SHSM) in Arts and Culture from the CDSB of Eastern Ontario (lighting and sound equipment maintenance certification, stage make-up, dance, and vocal training)
Certified Peer Helper for students with physical and mental disabilities through UofG's Student Experience
Suicide prevention training through Living Works Education
Anti-Oppression & Anti-Racism award in Principles of Belonging: course completed and badge received from the University of Guelph
Sexual and Gender Based Violence Awareness Training completed and badge received from the University of Guelph
Professional training in Photoshop, Adobe Lightroom, Capture One, Sketch-up, Microsoft Word, and Microsoft Excel
Specialized training in film development, processing, darkroom printing, and scanning 35mm film, large and medium format, as well as photogram and cyanotype printing
Specialized training on Epson print software for professional photography prints
Trained vocalist 5+ years
Trained on kiln safety and beginner pottery
*In progress training / certification at the Toronto Art Therapy Institute towards CRPO & Registered Art Therapist certification.
Awards & Grants
• University of Guelph Entrance Scholarship (2017)
• Youth Opportunities Award, through Guelph Arts Council (2021)
---